Hey friends!  I'm back with some more DNF reviews. I know, I know. It's a reader's worst nightmare.But for me DNFing books have become almost like a trademark.
Two books/authors on here are highly loved and favored in the romance and book community. I know ya'll are going to be like WHAT?! when you see them. I just hope you won't disown me after this post!
I'm even thinking about disowning myself actually. I wanted to love every single of these especially because they are all own voices and have POC main characters. However, as much as I wanted to love and support them,  I like what I like and I just didn't match well with these books. Also, if these are your favorites, you are valid. This post isn't to make anyone feel otherwise. 
Untouchable by Talia Hibbert
Sleeping with the staff wasn't part of the plan.
Sensible, capable, and ruthlessly efficient, Hannah Kabbah is the perfect nanny… until a colossal mistake destroys her career and shatters her reputation. These days, no-one in town will hire her—except Nathaniel Davis, a brooding widower with a smile like sin and two kids he can't handle.
Prim and proper Hannah is supposed to make Nate's life easier, but the more time he spends around his live-in nanny, the more she makes things… hard. He can't take advantage of her vulnerable position, but he can't deny the truth, either: with every look, every smile, every midnight meeting, Nate's untouchable employee is stealing his heart.
The trouble is, she doesn't want to keep it. Forbidden love isn't high on Hannah's to-do list, and trust isn't one of her strengths. When dark secrets threaten to destroy their bond, Nate's forced to start playing dirty. Because this reformed bad boy will break every rule to finally claim his woman.
I couldn't read this anymore. Y'all, I was legit bored to tears. It's a long story how I got started with the second book of this series instead of book 1. Short Version: I read a sample of A Girl Like Her and saw that it was on overdrive but was on a wait. I picked this up to read while I'm on hold and since I got a feel for her sister Hannah in the sample. 
Besides me being bored, my main issue relied upon the characters. They were one dimensional and bland. I didn't like Hannah at all. When she wasn't in her head with drawn out commentary, she just rubbed me the wrong way. Nate was forgettable and I kept waiting for some sort of chemistry to happen between these two. 
This is the second Talia Hibbert book that I have DNfed. I'm honestly thinking that she might not be a romance author for me. Now, I still have A Girl Like Her on hold on Overdrive so I won't make my final judgment until then. I'm not holding my breath though because I don't know how I feel about Ruth either…
The Perfect Date by Evelyn Lozada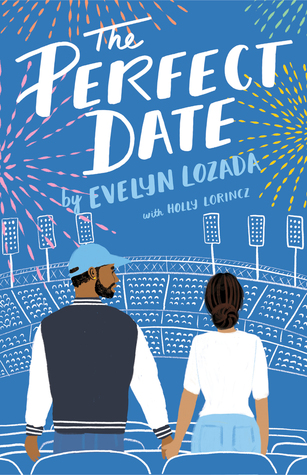 Angel Gomez only wants to get through nursing school and earn enough to support her mother and her son, Jose. Her bartending job helps bring in some extra cash, and the last thing she's interested in is flirting or men in general.
Caleb "The Duke" Lewis is an up and coming star for the Yankees, known for getting around. However, his last breakup left him distracted and made him turn to drink. When he's caught by the Yankees manager at a party instead of training, he's suspended and sent back to the Bronx to get his head straight.
Angel and Duke's worlds collide one night at the club and sparks fly. Though Angel wants nothing to do with Duke, he has no intention of letting her slip through his fingers. She isn't star-struck by his fame, and this might be just what he needs to get things in order. He'll do anything to convince her…even make her an offer she can't refuse.
As much as I wanted to love this because Evelyn Lozada wrote it, I couldn't bring myself to. The characters and the unnecessary drama was too much. There wasn't a single character that I liked or was willing to root for. Well everyone except for Jose.
The relationship between Angel and Duke was toxic and would never actually work. He was such a rude and condescending person that I don't know what Angel saw in him. Angel was quick-tempered and easily riled up. Along with these two not being good characters, they had no chemistry! Can't have a romance with no chemistry.
I also had an issue with the writing. It was choppy and hard to follow. All in all, this didn't work out for me.
A Princess in Theory by Alyssa Cole
Between grad school and multiple jobs, Naledi Smith doesn't have time for fairy tales…or patience for the constant e-mails claiming she's betrothed to an African prince. Sure.
Right. Delete! As a former foster kid, she's learned that the only things she can depend on are herself and the scientific method, and a silly e-mail won't convince her otherwise.
Prince Thabiso is the sole heir to the throne of Thesolo, shouldering the hopes of his parents and his people. At the top of their list? His marriage. Ever dutiful, he tracks down his missing betrothed. When Naledi mistakes the prince for a pauper, Thabiso can't resist the chance to experience life—and love—without the burden of his crown.
The chemistry between them is instant and irresistible, and flirty friendship quickly evolves into passionate nights. But when the truth is revealed, can a princess in theory become a princess ever after?
With this being my second time giving this book a shot, I just have to throw my hands up and say this isn't for me. My issues came down to the characters and the writing.
I don't think I could have been more uninterested in two characters if I tried. Ledi and Thabiso both rubbed me the wrong way. Ledi's attitude was getting on my nerves. She came off so unlikeable to me. Thabiso either wanted to be a stuck-up asshole or trade in his crown to be a full fledged stalker. I did get to read one steamy scene between them and it was hot, I can't lie about that. And even though I live and breathe for steamy scenes, I need more than that to continue here.
The writing just didn't click with me. Honestly, this book didn't even have to be this long. I felt like most of everything I read was just overly worded descriptions. Seriously. The characters came off flat and everything was described to make me see it and understand instead of feeling. 
I know this book and author are really loved in the romance community, however, I'm just going to have to say neither are for me. 
---
So there are some books that I have recently DNF'd. Do we have in common?
What are some books that you recently DNF'd?
Thank you for reading! ❤