Rancher's Dream
The Montana Cahills #6
by B.J. Daniels
My Rating: 💙💙💙
A bride becomes a target in New York Times bestselling author B.J. Daniels's latest can't-miss suspense
Tragedy sent Deidre "Drey" Hunter running from rancher Hawk Cahill and into the arms of a sleek businessman who promised her a new life. But dreams of Manhattan days and cosmopolitan nights shatter when he brings her back to an ultramodern paradise in her hometown of Gilt Edge—and vanishes on their wedding night.
Taunted by seclusion and silence, Drey starts to doubt everything…including her sanity. Only Hawk, the stubborn cowboy from her school days, believes the threats are real and that someone is ready to kill. But is he willing to forgive the past if it means ending her nightmare?
Purchase Links
Received a copy through a blog tour hosted by TLC Tours for an honest review.
So this was a fast pased second chance romance! I have been reading and loving so much cowboy romance this summer, and this is another good one added to this list.
By now you should know that I love second chance romances. I feel like they really bring the angst and the emotions. Hawk and Drey were together when they were younger but broke up after something tragic happens. The feelings were so real here you guys! 
There was suspsense and I was felt like maybe I was losing my mind along with Drey! It actually had more suspense than romance, but I wasn't mad it! I was swept up in the the story and couldn't wait to see how it would end.
Now I will say that felt like we didn't that much of a recap on the past between Hawk and Drey. I felt like that would have made me love them more. 
Overall, the story was very intriguing and and I loved the suspense!
---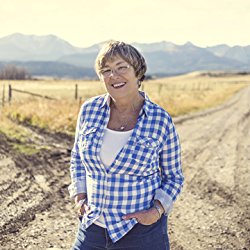 NYT and USA Today Bestselling author B.J. Daniels was born in Texas but moved with her family to Montana at the age of five. Her first home was a cabin in the Gallatin Canyon and later a lake house on Hebgen Lake outside of West Yellowstone.
Most of her books are set in Montana, a place she loves. She lives now in a unique part of the state with her husband and three Springer Spaniels.
When she isn't writing, she loves to play tennis, boat, camp, quilt and snowboard. There is nothing she enjoys more than curling up with a good book.
Connect with B. J. Daniels