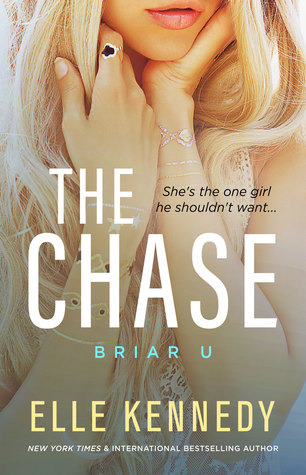 The Chase
Briar U #1
by Elle Kennedy
My Rating: 💜💜💜💜
Check it Out: Goodreads | Amazon
Everyone says opposites attract. And they must be right, because there's no logical reason why I'm so drawn to Colin Fitzgerald. I don't usually go for tattoo-covered, video-gaming, hockey-playing nerd-jocks who think I'm flighty and superficial. His narrow view of me is the first strike against him. It doesn't help that he's buddy-buddy with my brother.
And that his best friend has a crush on me.
And that I just moved in with them.
Oh, did I not mention we're roommates?
I suppose it doesn't matter. Fitzy has made it clear he's not interested in me, even though the sparks between us are liable to burn our house down. I'm not the kind of girl who chases after a man, though, and I'm not about to start. I've got my hands full dealing with a new school, a sleazy professor, and an uncertain future. So if my sexy brooding roomie wises up and realizes what he's missing?
He knows where to find me.
I feel like I should start by saying that I  haven't read the Off-Campus series. I definitely will after reading this though. I really enjoyed The Chase! I haven't read a sports romance in a while and this one was a good one jump back in with. 
The star of this book for me was Summer! Fitz was just a love interest. Sorry… well, not sorry. Just being honest. 
I hate to sound cliche, but she was like a breath of fresh air! In New Adult, we mostly get someone who is unsure of themselves and who don't stand up for what she thinks she deserves. Summer was confident, held her ground and didn't take anything less than she deserved. She held her ground with Fitz and called him out when he was being hot and cold. She was vivacious and funny and just a dream to read about. Obviously, I have a lady boner for her! 
She was also was a big girl power person. She wanted girls to stop girl hate and spreading that shit around. She was also a feminist. 
"Why do we do this as women?
Why do we feel the need to justify why we don't like someone?"

"A woman isn't defined by her boyfriends. She's defined by her achievements. And her shoes."
Summer also suffers from a learning disability and I was glad to see that representation used in this book as well. Ya'll I love the hell out of this girl! I would love to read another book just about her, I'll have to settle for pieces in Brenna's book (which I can't wait for!) 
Now I'm not saying that I didn't like Fitz, he just didn't make me swoon. So don't come for me with your pitchforks! I read a lot of reviews where people adored him and I'm not knocking him. I did like him and Summer together. Even though they were opposites, they worked together and their chemistry was off the charts!
My overall thoughts are that this was very enjoyable and that if you love sports romance that you should pick this one up! Now if you'll excuse me, I'm going to go find a copy of The Deal!
---
Connect with me // Instagram | Twitter | Goodreads